Internet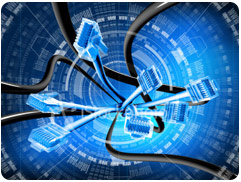 You get connectivity to a robust, secure and redundant world-class infrastructure, 24-7-365 monitoring, and the peace of mind that comes with industry-leading Service Level Agreements (SLAs).
Experienced engineers fully support and monitor your network the way you expect. Timely installation, and consistently reliable bandwidth, ensures your satisfaction.
Internet solutions include:
Dedicated Internet Access (DIA)
Internet connectivity at speeds of 56 Kbps through OC-12.
Customer Premises Equipment (CPE): Customers have the option of supplying and managing their own CPE, or looking to our partners to provide, install and maintain your premise equipment.
Digital Subscriber Line
Digital Subscriber Line (DSL) services give you cost effective and high-speed Internet access. DSL is a proven technology that takes advantage of standard copper telephone lines to provide secure, reliable, high-speed Internet access.
"Always on" access, affording businesses unlimited Internet access. Bandwidth options range between 128 Kbps to a full T1 (1.5 Mbps).
Web & Email Hosting
A global Internet presence and the ability to utilize Internet-based technologies.
Customers leverage a hosted and completely managed business class solution to establish a professional web presence and communicate effectively with customers, partners and vendors.
Co-location & Web Hosting Services
Infrastructure for your site and space and network connectivity for Web hosting equipment in our secure, carrier grade data center.
Ideal for businesses that want a global Internet presence and the ability to utilize Internet-based technologies.
Tiered and burstable bandwidth options are available so that you can choose the most appropriate solution for your e-business needs.
Virtual Private Network (VPN)
Leverage the best Internet technologies with the advantages of private networking.
End-to-end solutions with security features that allow controlled access to employees, business partners, and customers.
Worldwide coverage.
Cost effective and secure alternative to dedicated circuits.

To learn more contact one of our sales consultants at 877-238-1958, or email us at:
sales@kineticworks.com